Imazon. 2020. Is the EU-MERCOSUR trade agreement deforestation-proof?. (p. 92). Belém: Imazon.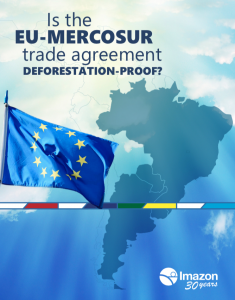 In June 2019, the European Commission and the Mercosur countries agreed on a trade-agreement (EMTA) that, once ratified by participating countries, is expected to increase commerce in agricultural products between the two regions. The trade deal will eliminate 93 per cent of tariffs for Mercosur products to the EU, notably benefiting agricultural products, including beef and soy.
Concerns have been frequently raised about the risk of increased deforestation in the Mercosur region – especially in the Brazilian Amazon. Such worries are pertinent given that an analysis of 189 countries from 2001 to 2012 shows that deforestation increased significantly over the three years after the enactment of free trade agreements (Abman & Lundberg 2020). Nevertheless, the proponents of the EMTA have argued that the deforestation risk could be mitigated because of the provisions of its Trade Sustainable Development Chapter and the recommendations provided by the Sustainability Impact Assessment.
However, this report shows that deforestation could increase in the Mercosur countries due the increased demand for agricultural products (Chapter 1) and could affect sensitive regions in Brazil, including areas neighboring indigenous lands and conservation units (Chapter 2). Moreover, Chapter 3 provides evidence that the EMTA's Trade and Sustainable Development provisions are insufficient to mitigate the increased risk of deforestation focusing on the Brazilian case. Therefore, the current agreement may not promote sustainable development as required by the EU trade regulation. Chapter 3 presents seven recommendation to reduce the risk that the ratification of the current EMTA would result in additional deforestation and conflicts with indigenous populations.
Download here.
Leia também: